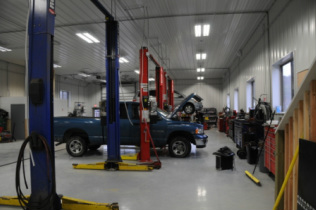 We are here for all of your service needs!

Our expertly-trained staff seek to solve your problems quickly, efficiently and with the utmost courtesy. These traits, combined with honesty, helpfulness and concern for our community, are what make Apex Automotive "Your Hometown Service Center".
---
We Service:
Foreign & Domestic cars.
Cars & Light
Trucks
Hybrid Drive
Systems
Gasoline
Diesel


Winter Safety


Here at Apex Automotive, your safety is our #1 concern. Here are some driving and maintenance tips to guarantee a safe and
happy winter for all our customers.


Tire Tips:

A tire fails the state-mandated inspection process if it has less than 3/32 of an inch of tread left. Anything above this
is fine for summer driving on dry roads, but with slippery and snowy roads the risk of a skid is increased exponentially. If your tires measure less than 5/32 of an inch in winter, Apex recommends a new set of snow or all-season tires.

In order to be sure of your tread's depth, Apex recommends investing in a tire depth gauge, available in most auto-parts
stores for around $5.

Make sure the tires you use carry the rating "M+S" (or MS, or M/S or M&S). This means that the Rubber Manufacturer
Association has tested and approved that tire for use in mud and snow.

Tires lose around a pound of pressure for every ten degrees that the outside temperature drops. Therefore, Apex recommends
inflating your tires to the upper limit of their pressure rating so as to
avoid skidding on badly underinflated tires.

Also, low tire pressure will activate your Tire Pressure Monitoring System (TPMS) lamp on your dashboard, necessitating a trip
to a repair shop to have it turned off.


Windshield and Visibility tips:

Wait several minutes with the heat on for your windshield to defrost before going anywhere. A couple of minutes spent de-icing one's
windshield can mean the difference between a normal drive and a truly harrowing experience.

Replace your current set of wiper blades with a winter set. A set of winter blades is stiffer, sharper and stronger than summer
blades, allowing it to better clear away ice and snow.

Top off your windshield washer fluid and carry an extra bottle in the trunk. Washer fluid is specially formulated to cut through ice, making it a
necessity in less-than-ideal conditions. Either keep a bottle with you (they're available for purchase at most gas stations) or stop into Apex for a refill anytime!


General Winter-Proofing Tips

If you'll need an oil change soon, do it now. Apex recommends an oil change every three to four thousand miles. In
winter this is especially important, as cold weather makes your oil more susceptible to sludge. Sludgy oil can rob you of engine efficiency and gas
mileage.

Maintain your battery. When your car receives service, we check that your battery's terminals and connectors are free of corrosion. If rust or white buildup is present, we clean the terminals with industrial solvents or, if the damage is severe enough, recommend a new battery. A properly-maintained battery ensures that your car starts every time you need it to.

If your car doors stick due to ice forming, spray the rubber door gaskets with a silicon spray. This will prevent
them from sticking and ensure a hassle-free driving experience.

Watch for corrosion and holes in your car's body. Between the damp conditions and the road salt, the time it takes for a
car to rust through is halved in winter. Keep your car clean to prevent these holes from forming.


Maintain your cabin air filter. If you drive with your windows rolled up in the winter, the cabin air filter is what determines the quality of the air you breathe on your drive. An old, clogged filter does not clean the air efficiently and also adversely affects the windshield defroster. Purchase a new filter with installation here at Apex and be ensured of effective heat all winter long.