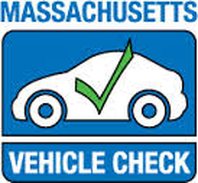 Massachusetts Safety/Emissions Inspection
Massachusetts requires that vehicles be inspected annually to ensure the safety of the driver and their fellow motorists. In addition, a state-mandated emissions test makes sure that your vehicle runs efficiently and serves to protect the environment. The fee for a Massachusetts inspection is $35.00.
Massachusetts inspection procedure:
Ensure license plates are present, current and correctly attached.
Windshield free from damage and glass tinting is not be to dark.

Wipers need to clear the windshield without streaks, not be torn or folded, and the washer spray is working.
All lights, blinkers and flashers need to work and there are no cracked or broken lenses.

Battery should be tied down and the horn should work.
Seat belts need to work and should be free from any damage.
Steering and suspension components will be checked.
Brakes and brake lines will be checked.

Tires should not be bald, worn or cracked and all be the same size.
Exhaust system should be free from leaks.
There should be no sharp or jagged edges or holes in body.
There should be no excessively leaking fluids.
Run state-mandated emissions test to ensure a clean-running and fuel-efficient vehicle.
If your vehicle fails its state inspection
Repair safety defects immediately, or you could be cited by police.

Small items like Bulbs and wipers can be fixed at time of test.

Repair the emissions defects, preferably at a Registered Emissions Repair shop, within 60 days of your initial inspection.
Until your vehicle is re-tested, you should keep your repair receipts in the vehicle as proof of repairs.
You have 60 days from you original inspection date to pass a re-test
One free re-test is available at your original inspection station, within 60 days of your initial inspection.
If you are over 60 days or choose to go to another station, you must pay another fee for your re-test.
If your vehicle failed both the emissions and safety test, both re-test will be done at the same time.
Any test after your one free re-test will be a paid test until your vehicle passes the inspection test.
---